Korg Kross 2 Synthesizer Workstation, 88-Key
Regular price
£1,065.00
Sale price
£1,049.00
Tax included.
Shipping
calculated at checkout.
---
The definitive "do-everything" synth workstation, with a huge variety of sounds and a new matte black finish. Keys, drums, sequences, sampling, and a performance powerhouse. The 88-key model of the all-in-one KROSS 2 synthesizer is now available in a "super matte black" rubberized finish. Packed with all the immediacy and huge sound of the KROSS 2, it features an additional expansion that adds all-new programs including a beautifully resonant acoustic piano. Designed to be your main keyboard, Kross 2 features everything a performer needs, far exceeding its class in power and usability. Rubberized matte black finish is sleek and uniquely durable The KROSS 2-88-MB features a great-feeling rubberized finish in "super matte black," simultaneously sleek and elegant, but also durable and comfortable. Rich sounds powered by added PCM A diverse array of more than 1,000 preset sounds has been supplemented by additional PCM with 128 new programs that include piano and electric piano, and also fulfill your needs for cutting-edge EDM with synth and drum sounds plus 27 drum track patterns. Piano weight keybed for natural performance The KROSS 2-88-MB features KORG's NH (Natural Weighted Hammer Action) keybed. The NH keybed has a realistic and comfortable piano-style hammer, with a heavier feel in the lower register and a touch that becomes lighter as you move into the high register, allowing the subtle nuances of your fingertips to show through in your performance. This keybed is perfect for playing piano and electric piano sounds while being light and portable for bringing KROSS 2 to your gigs!
88 keys NH (Natural weighted hammer action, no aftertouch) keyboard. Normally A0–C8 (adjustable in the range [-A-1…C7]–[A1…C9]) * The NH keyboard delivers a playing feel similar to that of an acoustic piano, with low notes being heavier and high notes being lighter. Sound Engine The Number of Combinations/Programs/Drum Kits:
User Combinations 896 Combinations (384 Preload)
User Programs 1280 Programs (768 + 128 Preload)
User Drum Kits 58 Drum Kits (42 + 27 Preload)
Preset Programs 265 Programs (256 GM2 Programs + 9 GM2 Drum Programs) * Total number of preload programs and preset programs:1,230 (965 preload programs, 265 preset programs) Main Specifications Dimensions (W x D x H): 1,448 mm × 383 mm × 136 mm / 57.01" × 15.08" × 5.35" Weight: 12.3 kg / 27.12 lbs (excluding batteries) Accessories (sold separately) Keyboard stand : Standard-L-SV Soft case: SC-KROSS 2 88/KROME 88 Other specifications are the same as the KROSS 2-88. * All products names and specification names are trademarks or registered trademarks of their respective owners. * Appearance and specifications of products are subject to change without notice.
Even more powerful preset sounds, with specialized optional expansion sounds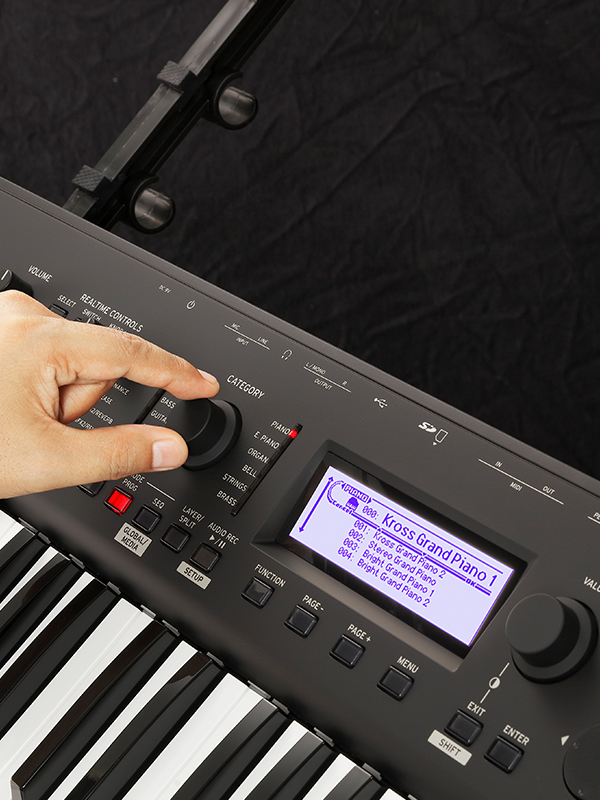 The sound quality of KORG synthesizers is endorsed by top-ranking musicians around the world. The evolved KROSS 2 expands polyphony from 80 to 120 voices, and dramatically powers-up the number of internal programs from 809 to 1,075 programs. Including multi-layered pianos and electric pianos, thick strings and other new sounds that will work well with any band, as well as the latest drum kits to cover current styles such as EDM. The wide selection of programs covers your needs from live performance to studio production.
The KROSS 2 now provides 128 MB of built-in expansion PCM memory. By selecting from optional libraries that will be released following KROSS 2, you can expand KROSS 2's internal sounds to meet the needs of your performing style or situation.
The high-quality EDS-i Enhanced Definition Synthesis-integrated sound engine is inherited from KORG's professional synthesizers. You can use a total of seven effects units simultaneously: five insert and two master. Rich expressive power is available from the selection of 134 high-quality effects, including standard effects such as delay and reverb as well as amp modeling, vintage effect units, and even a vocoder.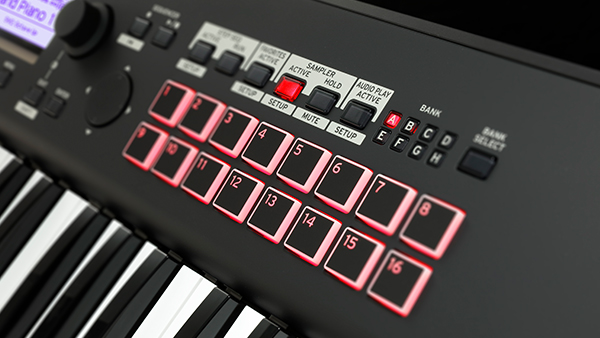 As a first in its class, the KROSS 2 is newly equipped with a unique sampling function that provides 16 playable pads. You can record the input from the LINE IN jack and assign a stereo sample of up to 14 seconds to each pad. Up to four pads can be triggered simultaneously. You can edit the sample waveform using functions such as start/end loop point settings and normalize, and even resample within the KROSS 2, allowing you to perform extensive sampling without requiring any additional equipment. Long audio files from an SD card can also be assigned to these pads.